Kate Hill is here with her latest erotic paranormal and it looks like a good one. What a cover. What a guy.
Please give Kate a warm welcome and read on for details...
_______________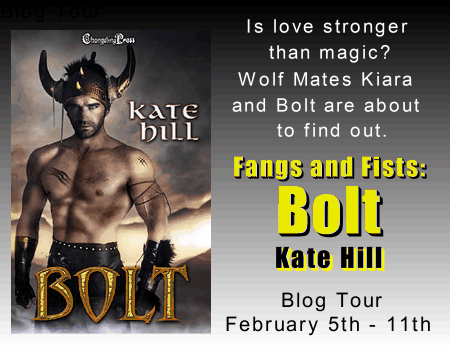 Fangs and Fists 1: Bolt by Kate Hill
In a futuristic world ruled by demons, werewolves are enslaved to fight in gladiatorial matches for the amusement of their evil masters.
Kiara remembers what life was like living free–before she was taken by demons and bred to gladiators so that the new generations of wolves would retain their ferocity but forget their freedom. Mated to top gladiator Grit, she has a son with this surprisingly gentle lover who is also planning their escape. When Grit is killed in the arena, his close friend Bolt upholds his promise to protect Kiara and the cub.
Bolt and Kiara have loved each other from the moment they met, but they buried their feelings because she was mated to his best friend. When Grit dies, despite their guilt, Bolt and Kiara surrender to their desire for each other. Will their love be strong enough to help them win freedom from their evil masters?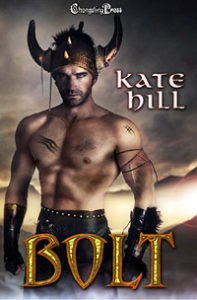 Excerpt:
Bolt came to her again that night.
As before, the guards opened the door abruptly.
Kiara had been pacing the cell while Jett slept soundly in the adjoining room. She turned toward the door, her heart pounding with anticipation.
Wearing only his loincloth, Bolt entered behind the first guard. His blue gaze flew to Kiara. The guards said nothing, but left them alone, closing the door behind them.
"Bolt," Kiara said, meeting him halfway across the room.
They embraced tightly and he covered her face with gentle kisses.
"I had a strange conversation today," she whispered in his ear, hoping that if the masters were listening, they wouldn't be able to hear her. "A huntress said we should be ready tonight."
"Yes. Her name is Zari. She's been planning this escape with us for months. Me, Grit and a couple of others. Victor is fighting again tonight. His opponent is one of ours, a wolf named Glacier. Since killing Grit, Victor's next fight has been greatly anticipated. From what I've heard, most of the demons in the tower will be watching."
"You really trust her? This Zari woman?"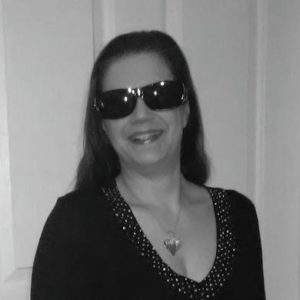 About Kate
Always a fan of romance and the paranormal, Kate Hill started writing over twenty years ago for pleasure. Her first story, a short erotic vampire tale, was accepted for publication in 1996. Since then she has sold over one hundred short stories, novellas and novels.
When she's not working on her books, Kate enjoys reading, working out, spending time with her family and pets and running the Compelling Beasts Blog, dedicated to antagonists, antiheroes and paranormal creatures. She also writes under the name Saloni Quinby.
Links:
Thanks so much for reading today's post. Hope you enjoyed it!
Please feel free to share the post via FB, Twitter, Google+ and more...share buttons below. :)